FEATURES:

Maximize Storage Space:Double deck design giving us double storage capacity.Holding more than twice as many shoes as before!Best space saving solution for our shoes at rack, closet, cabinet and wardrobe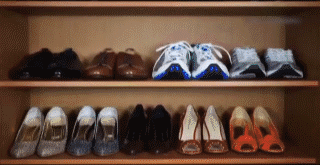 Adjustable Design:Shoe slots can adjust to fit all types of shoes in different height up to 7 inches. Including sneakers, high heels, slippers, sandals, flats,kid's shoes.
Neat and Tidy:See all our shoe collections in one glance while keeping them neat and organized, farewell to a jumble of shoes.
Quality& Clean:Made of high quality are firm and durable.Super easy to clean,just use water and soap
Fashionable :Protecting our shoes from dirty and damage.Perfect for organizing and cutting down on clutter,adds handsome aesthetic value to any room.
A Good Solution to Release Your Living Space!
Want to enjoy a less cluttered closet? Our space-optimizing shoe organizer will help you double your shoe storage space in a snap!
Feel the satisfaction of free up storage space by stacking your shoes one on the top, one on the bottom without getting dirty or damaged.


Try the best storage solution that give you double storage capacity to maximize your wardrobe space.
Compact two-layer simple shoe rack. Suitable for all types of shoes such as sneakers, slippers, sandals, or high heels and protect shoes from dirt and damage.
Functions as a space saver so that your shoe storage rack is very neat and saves space by up to 48%!
Made of high quality and nonslip ABS plastic with great grip for your shoe sole.
An open-level system also keeps your shoes protected from moisture (compared to when stored in a closed box).
Super easy to clean, just use water and soap.
SPECIFICATIONS:
Material: PP
Size:

17cm x 24.6cm

Color: Pink&White, Red&Pink, White&Blue, Yellow&Green

Weight: 132g
PACKAGE INCLUDES:

5PCS Double Layer Adjustable Shoe Racks