Car LED lights provide a sensory atmosphere in the car, enrich the environment in the car, can give the driver and the passengers a different experience, bring some joy and romance in the itinerary, and can relieve long-time driving fatigue.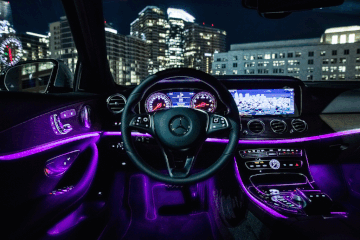 MAIN FEATURES
[4-in-1 Line Design]
This car led lights has a convenient flexible and unique 4-in-1 line design, And has a 6m length of fiber optic, Suitable for center console, shift lever and 2 doors.
[Safe to Use]
The LED car interior lights has a working voltage of 12V, equipped with short circuit protection and memory function. Waterproof, extremely low-heat,the product is installed in the gap touchable and safety for children.
[Plug and play]
Easy installation, simple power supply, plug and play for cigarette lighter interface. Car strip light can cut use, cut the part can be discarded, ownership length does not affect the use of the remaining.
[Ambient Decoration]
Car Interior Lighting Kits designed to be simple,yet also provides elegance inside the car when driving at night or enjoying music. Great for car interior decoration, parties, camping, bar decoration and so on,peculiar appearance and romantic interior.
SPECIFICATIONS
Material: EL+ABS
Color: Ice blue, blue, white, red, fluorescent green, purple
Optical fiber length: 6m (3 wires of 1 meter + 1 wire of 3 meters)
Package Includes: 1 x Automotive LED Atmosphere Light