DRY YOUR HAIR IN JUST 5 MINUTES NO BLOWDRYER REQUIRED!
Imagine the convenience of being able to dry your hair in less than 5 minutes without using a blow dryer.
Why? Because blow drying is secretly robbing your hair's natural moisture by burning and heating up your delicate scalp eventually causing hair loss, irreversible damage to your scalp and making your hair fragile, susceptible to breakage, and causing split ends!That's exactly why you need an alternative to a blow dryer - one that doesn't cost as much as that hair torturing device, and one that does the job in just a few minutes!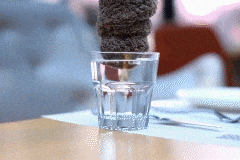 This Rapid Drying Towel will dry your hair in just a few minutes without the need of an electric hair blower. Now you can save time, save electricity, and save your hair from breakage!
🙆‍♀️ 6 REASONS WHY YOU SHOULD BUY THIS RAPID DRYING TOWEL RIGHT NOW!
Super absorbent and fast drying
Stays put for most hair types
Versatile
Ideal for everyday use
🙆‍♀️ HOW TO USE IT ?
Bend to make your hair hang down, put on hair towel on top of the head (the end with button)
Wrap your hair with the hanging part of the towel
Pull up the secure loop across your head and fix it under the secure button.
🙆‍♀️ SPECIFICATIONS:
Material:

microfiber
Size:

65*25cm
Color:

dark blue, light blue, purple, yellow, pink
🙆‍♀️ PACKAGE INCLUDES: